For Success Coaching Students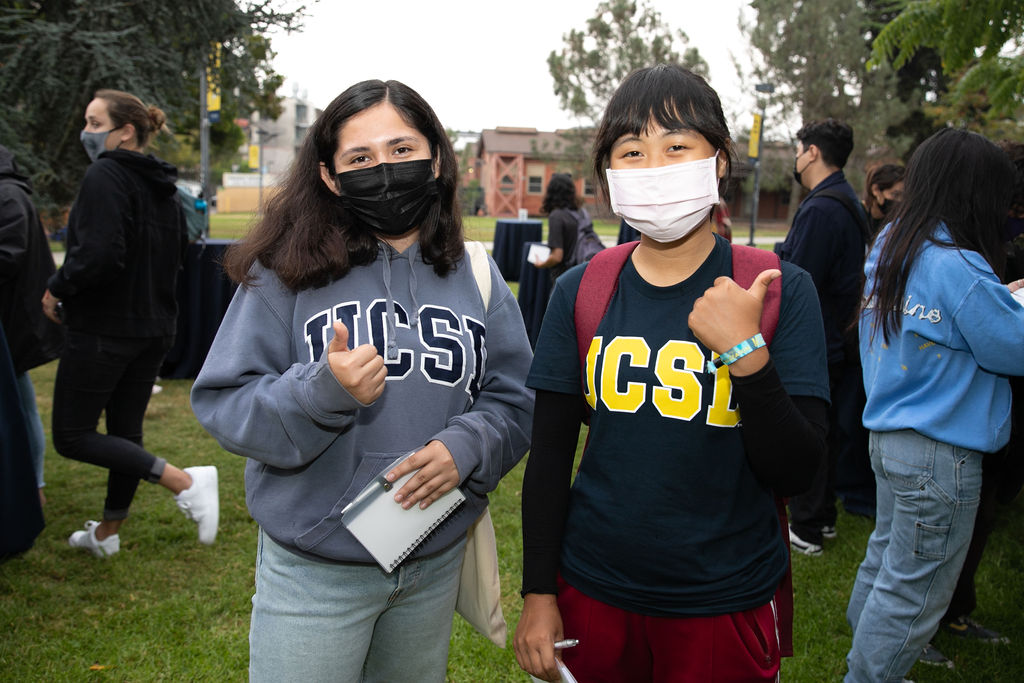 Welcome! Through participation in the Student Success Coaching Program, you have access to many program benefits. Please continue reading below for more information, including program milestones, student resources, and answers to frequently asked questions.
We strongly encourage our students to complete program milestones in order to enhance their experience in the Student Success Coaching Program and as a student at UCSD.
We encourage you to engage in student milestones (activities like attending office hours, getting a research position, attending community events, finding a mentor) as a guide to discover yourself, your campus, your major, your future profession, and more. As you discover more about each milestone, you will learn that in life, there will always be more reflecting, goals setting, and growing you can do.
Don't forget to get Co-Curricular Record (CCR) validation for completing your Success Coaching milestones!
Frequently Asked Questions
The real answer is, whatever you want to happen. You are the expert of your life. Your Success Coach is here to ask you powerful questions and to engage you in conversation to help you discover your passions, goals, and campus opportunities.
Some examples of topics are:
Major exploration
Academic, personal, or financial goal setting
Finding experiential learning opportunities like research, study abroad, internships, and employment
Developing a balanced schedule using different time management techniques
Using assessments like LASSI to learn about personal study skills or Gallup StrengthsFinder to reflect on personal talents
Coaching is all about discussing what matters to you (your values) and creating goals to live your values. That looks very different for each student.
Each spring quarter, information sessions are open to the campus to learn more about the position and applications open for the following academic year's Peer Coaches.
Any current undergraduate student can apply.
You must be available for fall, winter, and spring quarters of the academic year.
Peer Coaches are interviewed and selected in spring quarter and trained during summer break.
Your Success Team is your Success Coach and Peer Coach, along with support from the rest of SSCP staff.
Peer Coach

Success Coach

Current undergraduate student at UC San Diego and has recently experienced the transition to a quarter system and college life.

Has at least a masters degree in higher education or a related field.

Supports you during your first year at UC San Diego.

Supports you during all four years at UC San Diego.

Trained by UC San Diego Success Coaches and certified by the NASPA (Student Affairs Administrators in Higher Education) Certified Peer Educator and the College Reading and Learning Association's International Mentor Program Certification.

Is highly trained through professional certifications and ongoing professional development. Coaches have been certified in:

Appreciative Advising
Gallup Strengths Coaching

Can help you understand how to create and refine your SMART Goals, take your online assessments, and review all parts of the Success Plan.

Serves as your long-term accountability partner, champion, and coach for your entire four years at UC San Diego. Success coaches will support you from your first year to graduation and beyond.

Cares about your success — in and out of the classroom.

Cares about your success — in and out of the classroom.
We are excited to meet with you, so we will send you a paper letter to your home address the summer before your first year. We will also call you, we will email you, and we will text you.
Yes, it is a real person texting you, not a robot!
Yes, you can text us back!
Yes, we love to hear from you. No, you are not bothering us!
We want to meet with you in-person at coaching sessions, but we also host events and partner with other campus resources to hold interesting workshops.
We have a newsletter that contains useful and important information that is sent to your ucsd.edu email address.
It's never too late to connect with us. We know that students who engage with us early in their first year and actively participate benefit greatly, but there is never a bad time to talk about your goals, dreams, and campus opportunities.
We meet with students through their entire undergraduate experience — day one through graduation (and beyond).
Through participation in the Student Success Coaching Program, you will have access to: