Student Success Coaching is here for support!

Success Coaching students know what it means to be the first. These qualities are going to help Coaching students succeed in a virtual environment. Through the changes presented by COVID-19, SSCP would like to reassure our students that we will continue to offer support through virtual platforms. 
Explore below to learn how to stay connected with the Success Coaching team and stay up to date on the coronavirus at UC San Diego.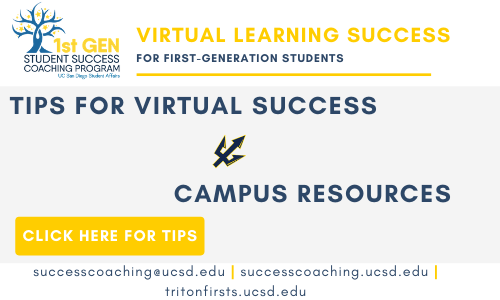 Meet with a Coach
Meet with a Success Coach
Student Success Coaches meet with first-generation college students to discuss the student's values and goals. Schedule a virtual Zoom appointment with a Success Coach.
Peer Coaches
First year students are also provided the support of a Peer Coach. Peer Coaches are fellow undergraduate students who are here to help you to succeed in and out of the classroom.
Do I still have access to meet with my coach?
Yes, coaches will provide virtual coaching meetings via zoom video or phone call. Visit (https://ucsdsuccesscoaching.as.me/SuccessCoaches) to schedule a meeting with your coach for a time that works for you! 
Do I still have access to meet with my peer coach twice a quarter? 
All first-year students in Success Coaching are matched with a peer coach for their first year. After the first year, students in SSCP continue to work directly with their professional success coach.

What if I don't have access to a web camera, can I still have a meeting with my coach?
 Yes, coaches can meet via Zoom with or without audio, or you may call into the Zoom meeting. Check (https://ucsdsuccesscoaching.as.me/SuccessCoaches)  for the phone number and zoom meeting ID# to connect with your coach for your meeting! 

Will Success Coaching still host events during this quarter? 
Success Coaching intends to continue hosting events that support and celebrate your overall success. Currently, all programming is being held virtually in compliance with UC San Diego guidelines. Continue to check our website and social media for updates. 

Should I still be working towards completing the Success Coaching Milestones? 
Yes, many of the milestones are still able to be achieved virtually, check department and program websites for more information. 
I have some concerns about my experience at UCSD during the academic year, what should I do? 
Contact your Success Coach individually or make an appointment here to connect with a coach.