Welcome First-Year Students

What is Success Coaching 
Success Coaching provides ongoing interactions through one on one coaching meetings throughout the academic year to help you discover your strengths, goals and campus opportunities. Students can meet with a success coach to discuss topics such as: 

Navigating transition and adjustment to being a college student

Connections to campus resources and support services

Motivation and organization in the virtual environment

Balancing home responsibilities with academic expectations

And more! 

Additionally, Success Coaching supports you through an individualized success plan and virtual events specifically designed for the success of first-generation college students.

Peer Coaches

First year students are also provided the support of a Peer Coach. Peer Coaches are current students who attend UC San Diego, and help support first-year students in the coaching program. Peer Coaches can support you with topics such as adjustment to college, study habits, test-preparation, student life, and anything related to being a student at UCSD!
Welcome messages from your Success Coach
Your Success Coach and Peer Coach will be available for virtual zoom appointments. You should meet with your Success Coach at least once per quarter and your Peer Coach at least twice per quarter. We recommend scheduling your peer coaching appointments once during the beginning of the quarter and a second appointment towards the middle or end. 
The Student Success Coaching Program has identified key actions that enhance a student's experience in our program and as a student at UC San Diego. These actions are identified as program milestones. Milestones include actions such as attending office hours and UC San Diego events or workshops. Not only do these milestones foster student success, they also qualify students for Co-Curricular Record (CCR) validation.
The milestones are not meant to be completed immediately, but rather throughout the quarter and year. You may even want to complete some milestones multiple times (office hours are always great!). The first year road map (included on this page) provides a template for how you might implement all of your Coaching milestones into your time at UC San Diego. We encourage you to utilize this road map, Success Coach and Peer Coach as guides for a successful start to your undergraduate career.
(Click
here
for pdf version)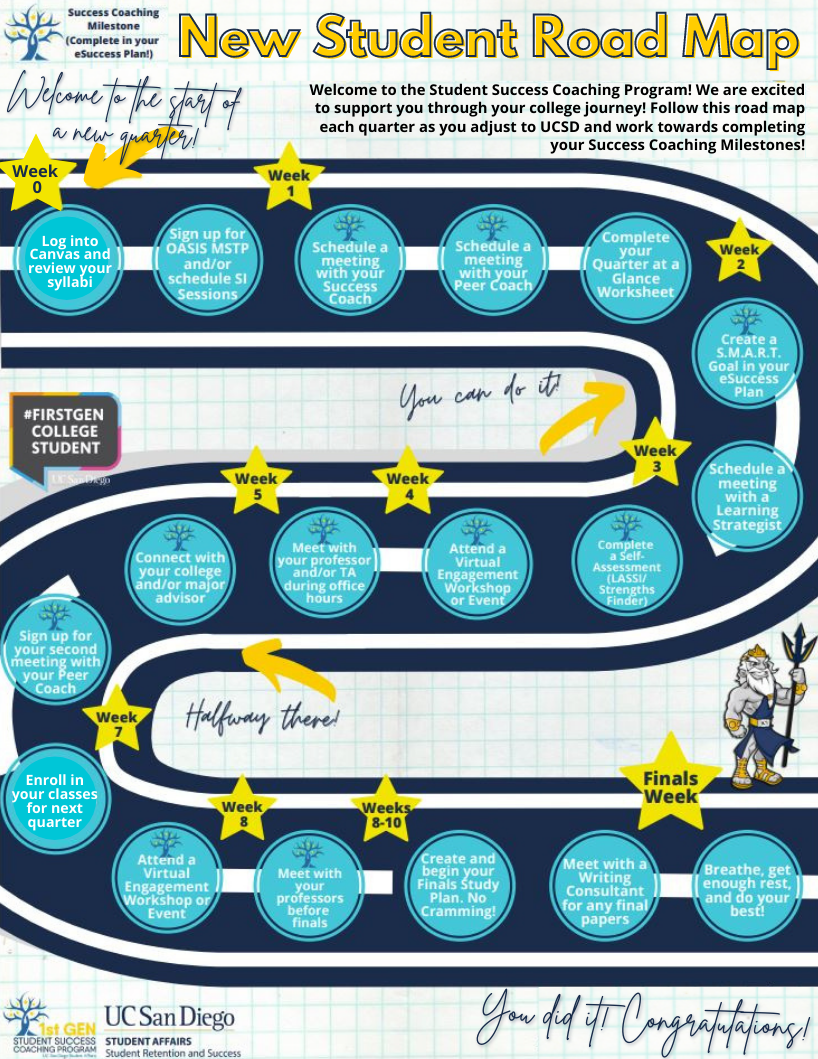 Virtual Resources
Find a list of resources to provide further support and guidance in this virtual environment.