Co-Curricular Record Validation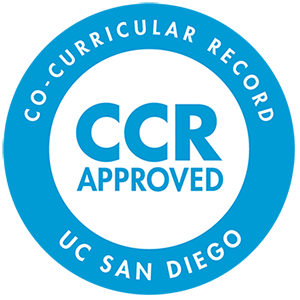 Did you know that you could get CCR validation for completing the Success Coaching milestones?
What is the CCR?
The Co-Curricular Record (CCR) is an innovative tool through UC San Diego that highlights student achievements in opportunities outside the classroom — like internships and jobs; Greek life and extracurricular activities; and program involvement.
The purpose of the CCR is to demonstrate the value of engaging in opportunities outside the classroom, and to help students reflect on and articulate the competencies and skills they developed through those experiences.
What are the benefits of CCR validation? 
All eligible CCR opportunities can be logged and recognized on an official record that acts like a transcript that can be shared with employers and graduate / professional schools. This transcript showcases a description of your activities and the competencies you developed through participating, such as:
Career Development
Critical Thinking & Problem Solving
Innovation & Entrepreneurial Thinking
Oral, Written, & Digital Communication
Research Ability
Teamwork & Cross-Cultural Collaboration
Civic Engagement & Social Responsibility
Digital Information Fluency
Leadership
Professionalism & Integrity
Self-Reflection
Understanding Global Context
How do I get CCR validation for Success Coaching? 
It's easy!
Complete the Success Coaching Milestones each year and log your experiences in the online Success Plan portal. These are the requirements for validation:

Attend at least six self-enrichment opportunities per year, either from the Student Success Coaching Program (SSCP) or opportunities that support your academic, professional, or personal goals

Complete a reflection form for any non-SSCP workshops and opportunities on the Success Plan portal

Attend at least three meetings with your Success Coach per year

Attend at least six Peer Coach Meetings (first-year students only)

Create and enter a SMART Goal, at least three times a year, on the Success Plan portal

Engage in a faculty interaction and reflection through office hours, Dine/Coffee with a Prof, or an informational interview

Complete a reflection form for your faculty interaction on the Success Plan portal

Engage in intentional leadership involvement and reflection

Complete at least one self-assessment and debriefing with your coach each year (Strengths Finder and LASSI)

Apply to high impact practices, personalized professional development programs, and relevant scholarships. (Create and get feedback on an academic and/or professional resume.)

Log into UCSD's CCR portal and search "Student Success Coaching Program Participant" and register for the 2020-21 school year.

A member of the Success Coaching Staff will verify your participation at the end of the academic year.

The Success Coaching Program will be added to your CCR Transcript as "Student Success Coaching Program Participant." The competencies that you gain as a Success Coaching Program participant are Self-Reflection and Career Development.