For the Campus Community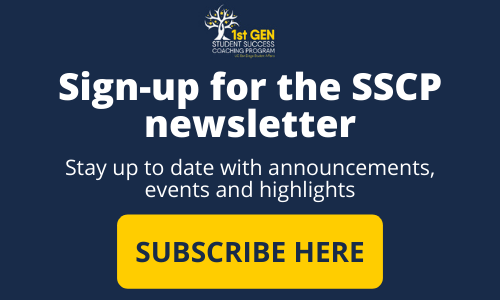 A Year In Review: Successes and Shoutouts
We would like to share the 2019-2020 accomplishments of SSCP with our campus partners and extend gratitude to the collaborations and support of our campus community.

The Student Success Coaching program was developed through a partnership with the Office of the Vice Chancellor – Student Affairs and the Deans of Advising at the UC San Diego's undergraduate colleges.
Each individual college houses a team of one professional success coach and peer coaches.
Thank you to the undergraduate colleges for your collaboration and commitment to supporting first-generation students.
The Student Success Coaching Program (SSCP) accepts referrals from campus partners for students to participate in the program.
Are Success Coaches available to coach all UCSD students, including first year students?
Yes, Success Coaches are here to support all UCSD students, both new and continuing students, even virtually.  Students are encouraged to meet with any Success Coach to discuss topics such as:
Navigating transition and adjustment to being a college student
Connections to campus resources and support services
Motivation and organization in the virtual environment
Balancing home responsibilities with academic expectations ... and much more!
Make an appointment here.
How do students become a part of the success coaching program?
The Student Success Coaching Program provides holistic, personalized support for a specific cohort of California residents whose parents / guardians did not graduate with a four-year university degree. Our cohort is selected in collaboration with campus partners so that we may provide support for students not already connected to another support program on campus. If you are, or know, a student that may benefit from the support of a success coach, please see the student referral form above.
What happens in a coaching meeting?
We believe that students join the university with all the strengths and skills needed to be successful. During a coaching session, coaches connect students to institutional resources, ask powerful questions, reframe to challenge students about their processing of new ideas, participate in goal setting, and encourage/ empower students to become an active participant in their success.
Where is success coaching located?
The Student Success Coaching program does not have one central location. Each success coach is strategically placed in a physical location within each of the undergraduate colleges to best support their cohort of students.
A key component to coaching is reflecting with students about their strengths, challenges, and goals using open-ended questions, which we refer to as powerful questions. Through reflection, we can grow and develop an understanding of our strengths and aspirations more deeply. Below are some powerful questions to use with our students:
What do you hope for you/ your family/ your community?
What is a lesson your family has taught you that stays with you today?
What are ways you stay in touch with people who are important to you?
What are ways you get your questions answered about college life?
What kind of people do you need in your support system to achieve your future goals?
What would you like to see different for other first-generation college students?
Spring 2021
Winter 2021
Fall 2020
Spring 2020
Winter 2020
Fall 2019